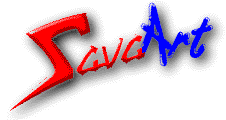 SavaToons: the Savatage Cartoon
A savatage fan recently donated some artwork to my humble site. It isn't technically savatage art, but it has that certain savatage-esque quality about it. Anyway, it's ncie stuff.

Ripper Statue - a painting originally done for a competition with the topic "Demons and Angels"

Laures - a handsome and heroic figure.




Savatage Art: 2D sketches - computer and hand drawn Savatage Artwork
Angel... A drawing I did shortly after Criss's death depicting him as angel soaring up to the heavens.

Doctor Butcher... A caraciture of Jon inspired by his pose in the Dr. Butcher cd liner.

Criss... A colored pencil drawing taken from an old magazine picture.

Gutter Ballet... This artist's interpretation of Jon's pic from the Gutter liner booklet.

Gutter Days ... A pencil sketch of Jon looking very contemplative during the gutter era.

Seeing Red ... The group when Criss's hair was straight and Johnny's was curly. I guess that'd be somewhere around Fight for the Rock or Hall of the Mt. King. Done in red line art.

Edge of Thorns ... A caraciture kinda take on one of the band photos from "Edge of Thorns".

Jon ... A sketch of the Mt. King smiling while on stage.

Dr Killdrum Comic ... A comic book type thing from an old fanzine with Doc as the hero of course. Donated to my site by Erikk Draven, creator of In Memory of Christopher Michael Oliva at the Official SavaSite.

dwd ... dwd in glass letters above the cd liner.

Chrome ... The logo in reflective chrome.

Black & white Criss and Criss photoshop edit ... Arty rendition of Criss Oliva which makes him appear sort of larger than life. Done in black, white and shades of grey.

Jon & Criss Oliva and Jon & Criss photoshop edit ... A warm portrait of the brothers who founded Savatage.

Criss Oliva and Criss Oliva photoshop edit ... Colorful rendering of Mr. Oliva, hair flailing, wailing away on his guitar.

Criss Memory ... Done with a photo of Criss and a flower. Just a humble tribute to a nice guy.

Savatage logo ... The patented Savatage logo design (gary smith) ablaze in a red, metallic bevelled material

Gargoyle and Gargoyle photoshop edit ... Although none of the band members are depicted, it was inspired by the album Dead Winter Dead.

Beethoven ... Also inspired by Savatage and Paul O'Neill's love of Beethoven.




Savatage Art: 3D Models & Animations

Wasted Time AVI ... modelled and animated in 3D Studio Max. kinda silly, but a challenge to create.

Desktop JPG ... A scene of what could be my desktop. Could be any savatage fan's desktop.

Records & things JPG ... A personal scene. A dual homage to two of my favorite things: Vinyl Records and Savatage.

tv JPG ... Savatage on the television, and in a scrapbook.

Savatage logo AVI ... The Sava logo appears one letter at a time and then lights up all aglow. primitive, but fun.




SavaToons: the Savatage Cartoon © 1998-2004 savatoons web design. All Rights Reserved.