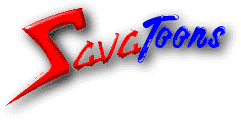 SavaToons: the Savatage Cartoon
The Story of It

SavaToons was created by me, Stacie Forman, sometime in 1995, however it wasn't
until 1998 that they made it into publication here on my website.

I have actually been a Sava fan since 1987 (wow that's a long time ago, god i am old) when I saw the
first run of the HOTMK vid on the now defunct "HeadBangers Ball". As soon as I heard/saw the vid I absolutely had to have that record and all their others and I did. I still remember when Jon and Criss were guests on the HBB (wish I'd videotaped it) and how cute and funny it was, Jon being nervous and picking at the holes in that torn up couch that Ricki Ratchman called "Jennifer".

It began with just doodles. Criss was first. He's so cute and sweet
he really lends himself to cartooing. It only took a few moments and he was there on
the paper smiling at me, begging for some toony companions to keep him company.
So I just had to draw the rest of the guys. Once I had all the guys drawn the first
joke popped into my head right away. That was "Wired".

After I drew "Wired" (which incidentally took quite a while to get right since it was done
by hand before I had and knew how to use all these nifty computer drawing programs) I just
sorta forgot about it for a long while.

Then one day in March of 98 I was browsing through the Official Sava WebSite and
noticed how many fans had their own savatage tribute websites. That's when it hit me. Suddenly I
remembered that first SavaToons that I'd drawn years ago and I knew that would make for
a great site that lots of people could really enjoy.

And here it still is, the year now 2001, almost 2002. I don't know when the last toon was posted or when the last update was done, but I imagine it was sometime time ago. Probably back in 1999. I always left the site up figuring there are always new visitors who may not have seen the old stuff. But just recently, the inspiration that first gave birth to the SavaToons has returned to me. And slave that I am to inspiration... I must obey it.

I found three old, but previously unreleased strips which I will try upload on an approximately weekly basis. Also have a few new ideas which are in the works. I can't say how long this new run of inspiration will last, but if anyone out there was hoping for a few new SavaToons strips you've gotten your wish. Enjoy and thanks for stopping by.


SavaToons: the Savatage Cartoon © 1998-2004 savatoons web design. All Rights Reserved.